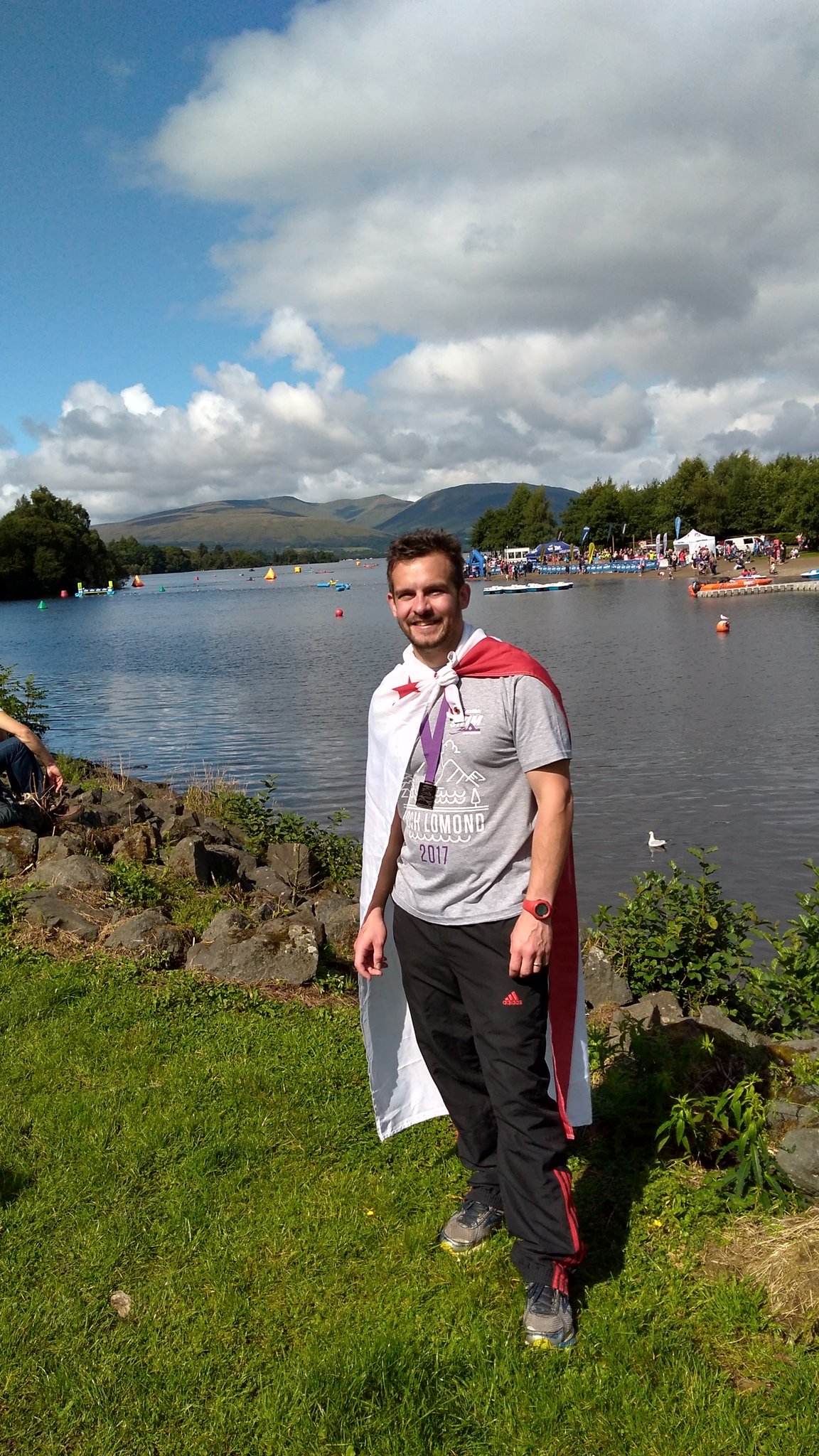 Before I was a runner, I was a swimmer. Or, I still am a swimmer; I just don't swim as much as I once did.
Taking part in my 5th Great Scottish Swim in as many years was a joy. It has always been a well organised event in a spectacular location. The vibe is one of excitement and positivity. It's what keeps me coming back every year. I've done the 1 mile three times, the 2 mile once, and the 5k once. The only "bucket list" distance I have to tick off is the 10k, but I'll hold off on that one until I can devote some proper training to it (and when I can convince my wife to allow me!). The 10k distance, especially in open water, deserves due respect.
As I've been so focused on running the past couple years, I enjoyed getting in the water again. In many ways, swimming feels more natural to me than running. Maintaining proper form, efficiency, all of that comes easier when I'm swimming. It just sort of snaps into place and I find a good rhythm. In comparison my running feels a tad awkward and laboured. If I'm honest with myself, I'm just better at swimming than I am at running. At this year's Great Scottish Swim I clocked 31:59 for the mile, which put me in 84th place out of 924 swimmers. I was 10th in my age group… these are placings that I dream of getting in running races — being in the top 10% feels outside the realm of possibility. Even though my (annoyingly!) elusive target for an open water mile is sub-30min, I'm still pleased that I managed a decent time.  Especially given that my training for the Great Scottish Swim wasn't ideal (my last proper training swim was in May, prior to that just running because of the demands of work and childcare over the summer).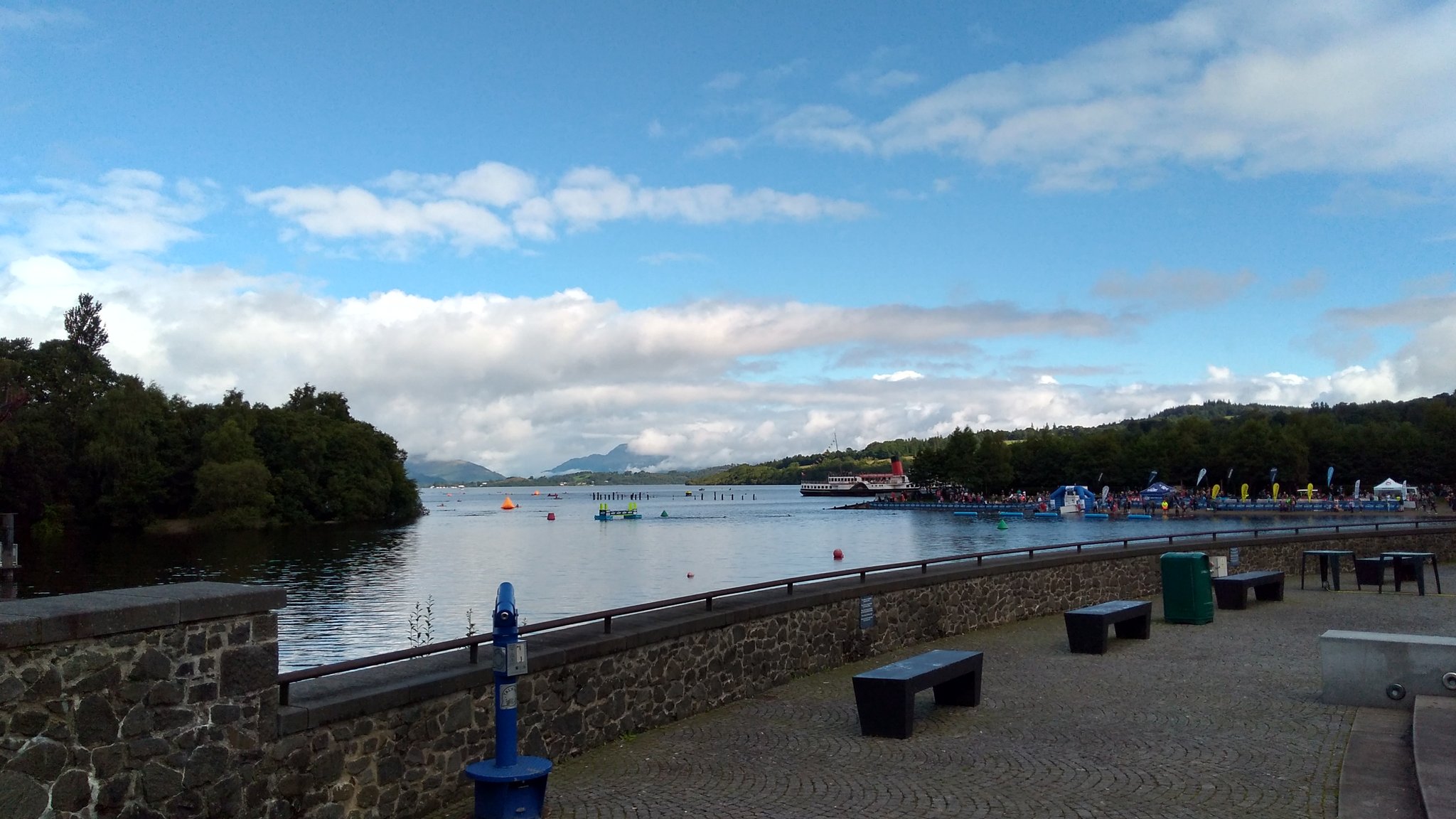 So why not just stick to swimming? I ask myself this sometimes.
If I'm honest, as much as I love it, swimming is a kerfuffle. Especially open water stuff. Just getting in and out of the wetsuit never becomes less awkward. And then you have to drive to the loch. Pools are not much easier, I feel like I need a PhD in analytics to figure out when there will be lanes available for doing laps in the local leisure centre. Don't get me wrong, the kerfuffle totally is worth it, but when you have small kids and need to train whenever you're able, the pure simplicity of throwing on some trainers and bolting out the door offers the biggest bang you can get for your buck. Sorry, don't just put on your trainers and bolt out the door. Such behaviour could get you arrested. Don't forget shorts and a t-shirt!
Swimming and running. It's not an either/or thing, is it?
Right now, I try to swim at least once a week. It's an amazing cross-trainer. It's easy on the body but you still get a full work out. If you work on efficient form, swimming is the perfect active recovery. In the most October 2017 edition of Runner's World, there's a feature that claims that swimming can improve your breathing, ankle range, and quickens recovery. Good stuff, right?
After a hard hill session, a good swim makes my legs feel normal again. Also, because it's a non-weight bearing activity, so you don't really need to worry about injury even if you do push yourself harder.
Another thing to commend swimming to runners – there is a lot of overlap, if we get specific. I know the thought of monotonous up-and-back of lane swimming simply doesn't appeal to many trail runners. Trail runners are a tribe of runners who thrive on things like exploration, the views, and the exhilaration of being outdoors. The physiological benefits of swimming may not be enough… so it's a good thing there's open water swimming and events like the Great Swim that make it so accessible. Outdoor swimming has all of the things that people love about trail running. I'd say that swimming actually heightens the experience as you're – quite literally – submerged in it all. My favourite view of Loch Lomond is the view that I get when I pass the halfway point on the great swim. The views are so special and the mountains look bigger somehow. Wetsuit technology is amazing now and, in contrast to the pool, inspires confidence in swimming because of the added buoyancy. I actually think many people swim with better form when their wearing a wetsuit because there less fighting against the perception of "sinking."
Of course, if you do decide to take up open water swimming, be sensible! A few tips: start with an event with a safety crew, like the Great Swim does. If you want to explore a loch or lake, don't swim alone, but find a group (there's a number of wise and welcoming local groups on Facebook). There's strength and safety in numbers. It's just a lot more fun in a group. I've found that open water swimmers are a welcoming tribe – much like their trail running counterparts. Avoid places that have motorised watercraft. Speak to a park or countryside ranger about the cleanliness of the water and where to avoid currents or blue-green algae. Invest in proper kit and a tow float; get recommendations from more experienced swimmers. There are some great resources on the Outdoor Swimming Society webpage.
***
I'm now in taper mode for the Ring of Steall at the end of the week. I'm looking forward to it with more excitement and nervousness than I expected. It's a total unknown because I never participated in a mountain race like this before.
I did a few hill reps on the local fells with my race backpack stuffed with all the mandatory kit. It's a fairly comprehensive list that points to the nature of the challenge: a survival bag, extra dry top, water, compass, food, waterproof trousers and jacket (don't forget: FULLY TAPED SEAMS!). It was good to get a feel for what the weight would feel like (not that bad, actually) and I ran in fairly horrendous conditions, so felt it like good preparation for all eventualities. I'm hoping that the weather does settle a bit!
There will be more on the Ring of Steall soon. I'll post a link to the GPS tracker thing if you want to watch my progress… but I imagine everybody will be more excited to watch Kilian Jornet run the bigger and more hardcore Glen Coe Skyline race! Great to have some of big names coming over here, I'm hoping it will raise the profile of the quality that Scotland has to offer in the trail and mountain running department.
PJ.